Best SUVs for camping
For travel trends of recent years, heavy-duty vehicle is a perfect choice. The crucial thing when starting these trips is to choose the excellent optimal vehicles. And SUVs are a smart choice because they can move to many places that other cars can hardly do. Here are the 7 best SUVs for camping (suitable for sleeping).
1. Ford F-150
The Ford F-150 is an ultimate SUV that we can suggest as you can find at an affordable price. The 2021 version of the F-150 comes with power, efficiency, comfort, and performance with high ground clearance for off-road roads such as gravel, rocks, sand and mud thanks to specialized tires. Inside the car we have a row of seats with spacious legroom. The cabin has a compact layout that is easy to arrange stuff.
An optional feature equipped on the F-150 called Pro Power Onboard allows the driver to use the truck itself as a generator for the trip. In addition, it is one of the best trailers at a reasonable price, providing a place to cook and sleep.
2. Land Rover Discovery
The Land Rover Discovery is an expensive medium-size SUV that conquers all the competitors in its segment with outstanding off-road capabilities. Inside the luxurious interior, Land Rover Discovery comes with comfortable heated seats, electrically adjustable with an optional massage function for the driver.
See also: Essential Motorcycle Camping Gear Checklist
Land Rover Discovery is available with an electronic transmission system and a rear differential lock. The car meets all the customer's requirements on long journeys, from style and comfort to spaciousness.
3. Subaru Outback
The Subaru Outback is a five-seat wagon with SUV-inspired styling. It comes with the bestground clearance for navigating inclement weather or even the trail. However, most Subaru Outback owners will care more about ride quality than off-road ability. Its suspension system provides an easy and safe ride.
4. Toyota Highlander Hybrid Bronze Edition
The Highlander Hybrid 2021 is a three-row mid-size SUV that offers reliability and practicality. This SUV comes with a relatively powerful 2.5-liter 4-cylinder engine and uses two electric motors. With a consumption of about 6.5 liters / 100km, Highlander Hybrid is fuel-efficient.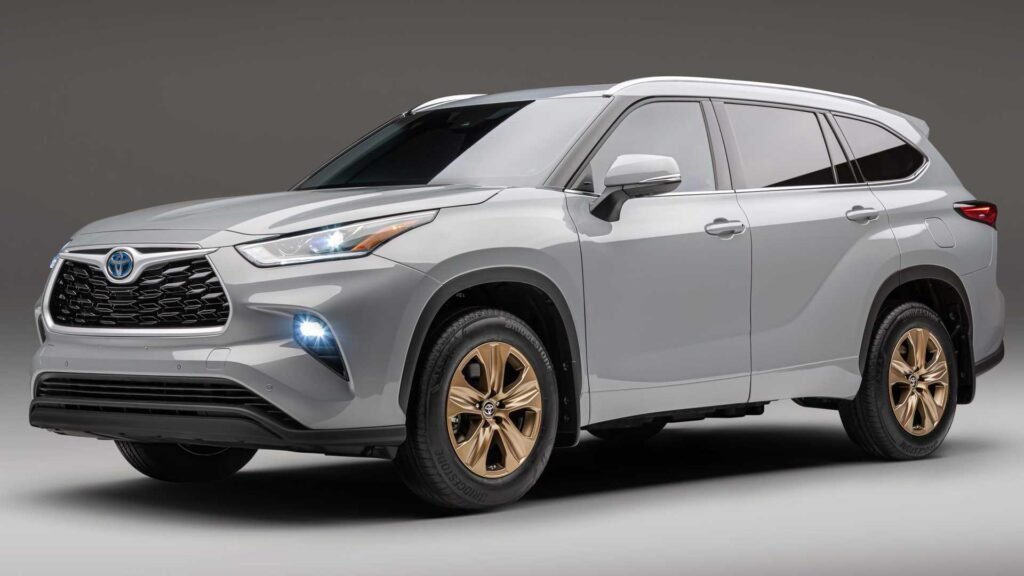 5. Ford Expedition
The Ford Expedition 2021 is a large three-row SUV. Each row of seats gives every passenger a spacious space. There's also plenty of cargo space, enough to carry all the gear, including a boat. In particular, the Ford Expedition is also a magnificent vehicle for towing a trailer.
6. Kia Seltos LX
Positioned between the Soul and Sportage, the Kia Seltos is pragmatic, with just the right size. The Seltos LX features an attractive blend of bright yellow and black. The car comes with a spacious cabin for passengers plus an adjustable luggage compartment.
See also: 9 Tips and Tricks to Help You Drive Cross Country
The Seltos LX also offers a range of driver help systems, including Lane Keeping Assist, Lane Departure Warning, and Lane Keeping Assist. These systems are useful during long trips and when the driver is tired.
7. Hyundai Palisade
This mid-size SUV offers its owners stylish and comfortable private rides that come with a luxurious and spacious cabin. The luggage compartment also offers a lot of space.
The Hyundai Palisade offers a wide field of vision for the driver and standard features such as intelligent cruise control, lane assist, and power seats. The sharp infotainment screen keeps kids entertained during the ride.
Notes when using SUVs to go camping
The advantage of cars is always the feeling of carrying things comfortably. When traveling by car, we should also have the following priority assessments, such as:
Understand the car we used to go camping
The vehicle has large capabilities, as well as limitations. It can only be achieved at some level. Big SUVs, basic two-wheelers, still get bogged down when poking into too rough terrain. If it is too complicated, you need emergency care. Therefore, the first thing is to understand the limits of the car you own. And choose for yourself the space, suitable camping location.
Additional storage compartments on SUVs
These are small compartments that are suitable for you to put minor items, Such as backpacks about 30 liters or fewer, small bags containing mini gas stoves, and accompanying small accessories. With SUVs, there is a rear cargo compartment connected to the passenger compartment. We should not load things too high, blocking the view when we glance at the rearview mirror in the car.
See also: Rimac C2 (Concept Two) | Speed, Price, Top Records, and Specs
The rearview mirror on both sides goes on a camping trip that supports us to turn, and change lanes safely. The rearview mirror in the car allows us to see behind the car, and decide to slow down reasonably and safely.
So the small drawers, or the floor of the car in the second row, are the space for reasonable dumping. It helps you to leave only a safe amount of luggage behind the car, and move safely on every journey.
Know how to classify camping gear
Things to always keep in the trunk include tent covers, air mattress covers–sleeping bags. Camping chair, folding picnic table, picnic rack – camping.
Sorting crates for tent groups and related supplies (including folding tables and chairs, and air-cushioned sleeping bags). And containers are for cooking, gas-alcohol stoves, dishes, and aluminum pots have the common feature of folding
Separate large items such as a BBQ grill, a large multi-function gas stove, and a Gas tank. Wrapping slightly folded SUP boards, folding bicycles, etc. These are things that must be left separately outside and neatly arranged when getting in the car.
The Bottom Line
There is nothing better than enjoying long trips with family in your favorite car. We have suggested to you the 7 best SUVs for camping (suitable for sleeping) when going out to make your choice easier. We hope that you will have a wonderful time with your family and friends through fascinating camping trips with your favorite SUV.
The 7 best SUVs for camping (Suitable for sleeping)
Follow me in social media: