Introduction
The Aston Martin Vanquish stands out as a high-luxury sports car. It is not a car but an automobile art form defining class and power. This article will delve into its design, features, powerful engine, notable achievements on the race track, price, and more that have made this vehicle legendary.
Design
Get ready to experience what it is like to see the design of the Aston Martin Vanquish. This is not a car but a highlight reel. Sleek and aerodynamic with a strong-looking appearance in a shape similar to artwork while rolling. However, it looks fantastic and gives strength, improves the weight, and raises the speed and handling of the Vanquish to a whole new degree. This is where elegance meets aggression in perfect harmony, providing an excellent sight for the eye that appreciates classy cars.
Specifications of Aston Martin Vanquish
What powers this automotive masterpiece? Inside, the Aston Martin Vanquish comes to life with a 5.9 liter v12 engine producing 603 hp. It's not about power; it's pleasure. In terms of speed, the Vanquish has style. Nothing short of thrilling. Although about speed, here with rear-wheel drive, the thrill is in the fantastic handling and driving performance that will leave you panting on the road.
See also: Aston Martin DB11 | Speed, Price, Records, and Specifications
Engine
The lifeblood of Aston Martin Vanquish is a giant 5.9 liter V12 engine. The fact that this car comes equipped with a high-performance engine proves Aston Martin's determination to provide superior performance and quality engineering. The engine generates 603 PS power, enabling the Vanquish to accelerate from zero to 100 km/h, taking only 3.5 seconds (in the case of the Vanquish S). The characteristic roar of a V12 engine creates a fitting audible impression to match the physical manifestation of the car's dynamism.
Transmission
Reliability is assured by an 8-speed Touchtronic III transmission system in the drive train of an Aston Martin Vanquish. The shift pattern combines an automatic transmission's smooth gear changes with a driver-operated mechanism in a manual transmission. It provides silky-smooth and accurate gear changes for an enjoyable ride. The transmission also has an electronic shift-by-wire control, which again helps enhance the car's performance characteristics.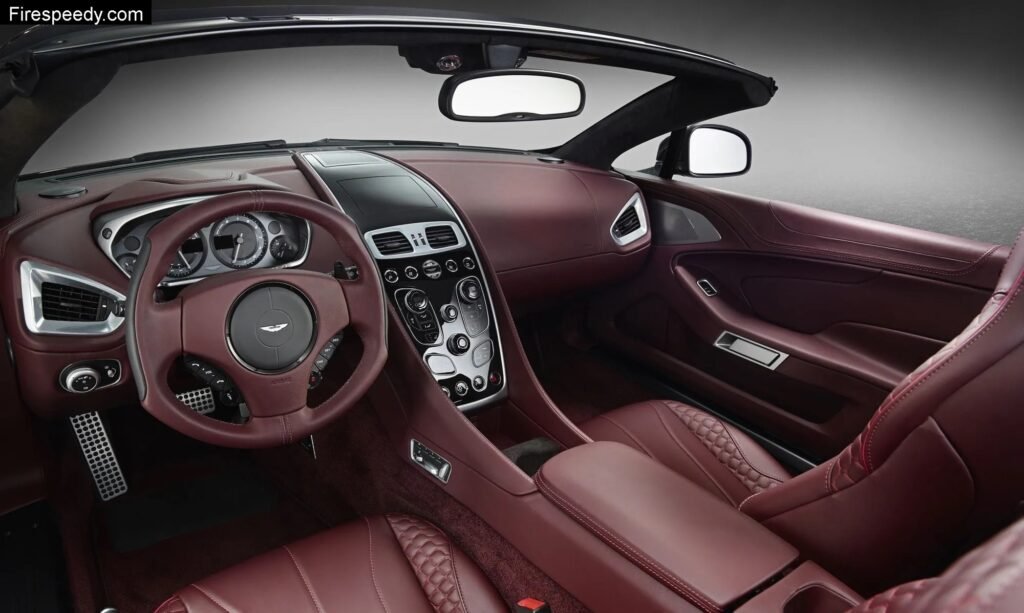 Interior and Exterior
Inside the Aston Martin Vanquish is an elegant and perfectly built interior space. With comfort, technological advances, and modernity, this is the perfect cabin experience. The interior is made of luxurious components, including hand-stitched leather upholstery and other materials like Alcantara. A cockpit has been provided with controls and instruments within your grasp to enhance driver-centered expertise. Aston Martin Vanquish delivers enough room for the driver, and other seats are ideal for a comfortable, enjoyable ride.
The design of the exterior of the Aston Martin Vanquish is stylish and robust but classy at the same time. Smooth, slim contours and rounded-out corners highlight its performance nature and create a sense of dynamism. The Vanquish, for example, possesses signature design features, which include the iconic Aston Martin front grille to distinguish it from other vehicles in this category. Its body is elegant and carved and has unique LED headlights. It turns heads anywhere it goes.
Records
The Aston Martin Vanquish has set many landmarks for itself, making it an unbeatable automobile icon. Notably, the launch of this car generated a record number of website hits for Aston Martin's official website. The online configurator and the popularity of the cool colors created madness as it doubled the US web traffic and increased British surfers by 162 percent. The Germans peaked at 2016%, standing out as the most interested. Additionally, the official unveiling video of the Vanquish accumulated over two hundred thousand views, which shows how much automobile lovers desired this model.
Performance of Aston Martin Vanquish
Aston Martin Vanquish is famed for excelling in high performance. The Vanquish has a powerful V12 engine and a high-performing transmission, enabling it to achieve exhilarating sprints and incredible top-speed rates. The Vanquish S variant produces 603 PS sprints from 0 to 100km/h in 3.5 seconds, reaching a maximum velocity of 201ms. Rear-wheel drive, uprated suspension, and improved aerodynamics contribute significantly towards giving the car's handling precise responsiveness. It finds that balance between luxury and performance, resulting in a pleasurable but exciting ride.
Production of Aston Martin Vanquish
As such, the production history of the Aston Martin Vanquish proves that it was and still remains a trendy car. The Vanquish came up in 2001 and took over after the Aston Martin Vantage. Production took place at the Aston Martin Works in Newport Pagnell, UK. A total of 1,489 first-generation Vanquish examples were manufactured between 2001 and 2007. The Vanquish S of 2005 also had several modifications to make it better than its predecessor. With the Vanquish and Vanquish S production, the manufacturing of Aston Martins was concluded in Newport Pagnell.
See also: Aston Martin Valhalla | Speed, Price, Performance, Specifications
The price of an Aston Martin Vanquish may differ due to the model year, vehicle condition, miles driven, location, or even the trim level selected. As a luxury sports car with an enviable pedigree, the Vanquish is at the top of the car market. For example, the last editions of a model, those made in the past year the production was stopped, cost over USD 200,000; scarce editions or particular versions, that is, those equipped extraordinarily, maybe even more expensive. However, used Aston Martin Vanquishes will be available depending on the factors mentioned earlier, and they can start from $100 thousand to $150 thousand at most.
For up-to-date prices specific to your requirements and location, it is best to consult local luxury car dealerships, Aston Martin official retailers, or reliable auto sites. Please note that prices are subject to change based on various factors such as tax, duty, and market conditions.
To Sum Up
Truly a work of art in automotive engineering is the Aston Martin Vanquish, which combines classic design, out-of-this-world performance, and ultimate comfort. Indeed, with this fantastic looks-design, big V8 engine, sophisticated new 6-speed transmission, and some impressive sales, the Vanquish is writing the book for high-end sportscars. The Vanquish provides a beautiful ride because of its elegance inside and astonishing outside. This is the ultimate automotive excellence, proving beyond doubt that Aston Martin is committed to producing cars that thrill motorists everywhere.
Follow me in social media: