Overview of Renault Trezor
Renault Trezor | Speed, Price, Performance, Specifications: Today we will be talking about the successor of Renault DeZir. Renault Trezor is a two-seater electric concept car designed by Laurens van den Acker, unveiled at the 2016 Paris Motor Show.
An interesting thing about this electric car is that there are no doors, instead, you open the roof and climb out.
Renault Trezor is also awarded as the Festival Automobile International's Most Beautiful Concept car of the Year 2016.
Specifications of Renault Trezor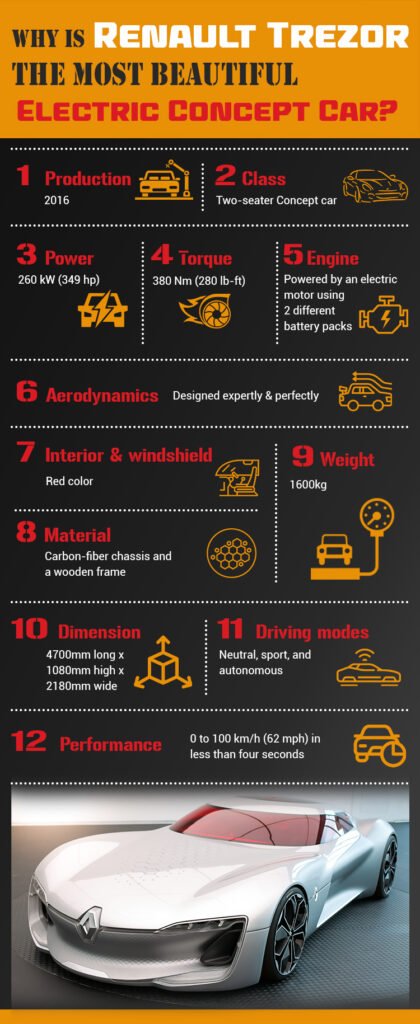 | | |
| --- | --- |
| Class | Concept car |
| Power | 260 kW (349 hp) |
| Torque | 380 Nm (280 lb-ft) |
| Manufacturer | Renault |
| Designer | Laurens van den Acker |
| Doors | Canopy |
| Wheelbase | 2,776 mm (109.3 in) |
| Dimensions | 4700 mm X 2180 mm X 1080 mm (L X W X H) |
| Predecessor | Renault DeZir |
| Weight | 1,600 kg (3,527 lb) |
Engine
The Renault Trezor is powered by an electric motor generating 260 kW (349 hp) and 380 Nm (280 lb-ft) torque.
The motor uses two different battery packs, one placed at the front and the other placed at the rear.
Aerodynamics
This concept car supports a massive engine and is capable of reaching a top speed of 250 km per hour with a lower coefficient of drag as 0.22. So, to ensure the safety and stability of both the vehicle and driver, its aerodynamics must be taken into consideration. To avoid aerodynamic stresses, this supercar is designed expertly and perfectly. So, it can achieve maximum effectiveness and efficiency.
Other specifications
The interior and the windshield of the car are colored red. Trezor is accompanied by an L-shaped OLED touchscreen covered with Gorilla Glass on both the center console and steering wheel.
This concept car uses a carbon-fiber chassis and a wooden frame under the bonnet, which was built with French bicycle manufacturer KEIM, to function as a luggage rack.
The dimensions of the car are 4700mm long, 1080mm high and 2180mm wide. It weighs just 1600kg, very light compared to other concept cars.
When you get inside the vehicle, the car will ask you to place your phone in a special slot underneath the armrest. It will then sync with the vehicle to personalize settings and welcome you.
Renault Trezor supports three driving modes: neutral, sport, and autonomous mode.
Once the autonomous mode is engaged, the logos on the rear and side of the vehicle light up so that others on the road know the car is in self-driving mode.
The steering wheel is rectangular and can extend in width when the vehicle is in autonomous mode to give the driver a panoramic view of the dashboard.
Performance
Renault Trezor accelerates from 0 to 100 km/h (62 mph) in less than four seconds.
Production of Renault Trezor
The production of Trezor is most probably expected to begin in the latter part of 2023.
I hope you have liked the article related to Renault Trezor, will comment below and share it with your friends and family. It helps in motivating us and bringing good content for you.
See also:
Renault Trezor | Speed, Price, Performance, Specifications
Follow me in social media: