BRABUS GMBH — Overview
Mercedes-Benz is renowned for its high performance and luxurious interiors, but what if you could kick it up a notch on Mercedes-Benz style and power?
With Brabus, you may. Brabus will get you there if you either wanna restore an old vintage car or boost a new Mercedes-Benz to meet its maximum potential. Please find out more about this brand and its strengths in the sections below.
What is BRABUS GMBH?
BRABUS GMBH is a famous specialized German Automobile aftermarket tuning company headquartered in Bottrop, Germany.
Brabus customizes almost everything in the automotive field. It customizes cars, boats and ships, and also aircraft. Although it has a big customization field, it has a significant interest in Mercedes Benz.
Type
Private
Industry
Automotive
Founded
1977; 44 years ago
Founders
Bodo Buschmann
Klaus Brackmann
Headquarters
Bottrop, Germany
Area served
Worldwide
Key people
Constantin Buschmann (CEO)
History
It was the time of the seventies. People didn't like the performance of the cars. The automotive enthusiasts desired to get their vehicles tweaked and increase the power.
A person named Bodo Buschmann wanted to customize his cars. But the customizers weren't able to modify the car according to his expectations.
So, an idea stuck in Buschmann's mind to establish his own automotive tuning business. As soon as he planned to set up the company, he gets Brabus GmbH registered with his friend Klaus Brackmann in 1967.
See also: Flying Car – Flying Car Technology and Prototypes
There is a German law which states that it requires a minimum of 2 members to establish a company. This lead to the partnership with Klaus Barackmann.
Timeline
| | |
| --- | --- |
| 1977 | BRABUS was founded in Bottrop, Germany by Bodo Buschmann. |
| 1982 | Sandown Motors was established in South Africa. |
| 1998 | Sandown Motors began their association with Daimler. |
| 2002 | BRABUS celebrated its 25th Anniversary and smart-BRABUS was founded. |
| 2011 | The Sandown Group in the UK was formed. |
| 2012 | BRABUS grows as a business, building its third factory in Bottrop. |
| 2013 | Mercedes-Benz Retailers in Basingstoke, Dorchester, Guildford, Hindhead, Poole, and Salisbury officially began trading under the Sandown Group name. |
| 2019 | The Sandown Group continues to expand with the addition of Mercedes-Benz of Farnborough and its newly found partnership with BRABUS. |
Why was the company named Brabus?
Brabus GmbH was founded by Bodo Buschmann and Klaus Brackmann. The company was named after the first three characters of the founders' surnames (Brackmann, Buschmann).
Since Brackmann showed no interest in modifying vehicles or running a corporation, he sold his company shares to Buschmann for 100 euros.
Brabus GmbH Operations
If you use Brabus to customize a newer car, you will discover that it improves your vehicle's elegance, safety, and intimacy — and that's not all. You can get performance customizations that will make your baby the fastest in its class. Like the 900-hp Brabus Rocket, which itself is the Brabus's upgraded version of Mercedes-Benz S-Class Sedan.
See also: What is a rocket and its uses – How do rockets work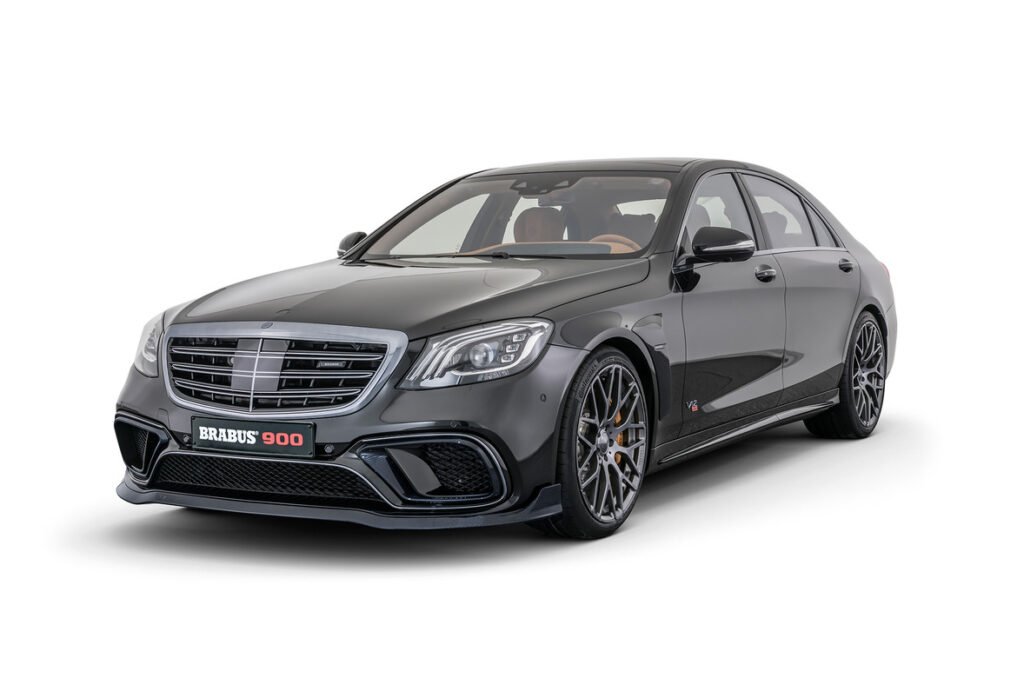 The core goal of the Brabus is to enhance car performance by increasing horsepower and making vital changes to the engine. Users have the option of purchasing cars from Brabus or sending in their own vehicle for upgradation.
When a customer orders a car, Brabus purchases a specific model from a particular agency and then transforms it to meet its specifications. Users may also have complete engine tuning or have new engines updated for them.
Brabus engines vary from the tiny 200 hp (150 kW) K4 engine used for CLK-Class to the 900 hp (670 kW) twin-turbocharged engine for S-Class.
Interior and Exterior Modifications
Brabus is well known for its high-priced tuning and the vast availability of modifications. It has everything available, from the engine cover to engine tuning and everything else.
Low-profile spoilers, body kits, carbon fibre splitters, and alloy wheels are among the styling upgrades available from Brabus.
LSDs, open racing exhaust systems, twelve-piston disc brakes, and engine remapping are a few of the functional modifications available.
Handcrafted upholstery, wood trims, buttery soft leather with over 3500 different colors, shift knobs, pedals, and giant LCD screens are some of the interior enhancements available from the company.
See also: BabyArk Car Seat | Frank Stephenson Designs The Safest Infant Car Seat
Follow me in social media: