Overview of BMW Vision M Next
BMW Vision M Next is manufactured by the sub-brand of BMW popularly known as M Performance. It is the coolest concept car, unveiled at three different following places: an event called "BMW Group #NEXTGen" on June 25, 2019, in Munich, Germany, the Chantilly Arts & Elegance Concours d'Élégance on June 30, 2019, then at the 2019 Frankfurt Motor Show.
Most of the concept cars are autonomous but this is just drivable. It is made for those experienced drivers like me and you…lol, who love driving.
Design
BMW Vision M Next is designed by the intelligent designer by mixing the designs of the following cars: 1972 BMW Turbo, the 1978 BMW M1 and the most recent BMW i8 of 2014. This concept car has a very attractive and colorful color combination of thriller orange and cast silver metallic. It looks just amazing!!
The concept car is accompanied by advanced gullwing doors. The doors comprise of various sensors, helps in opening the doors through facial recognition (You can also call it face lock…lol).
Specifications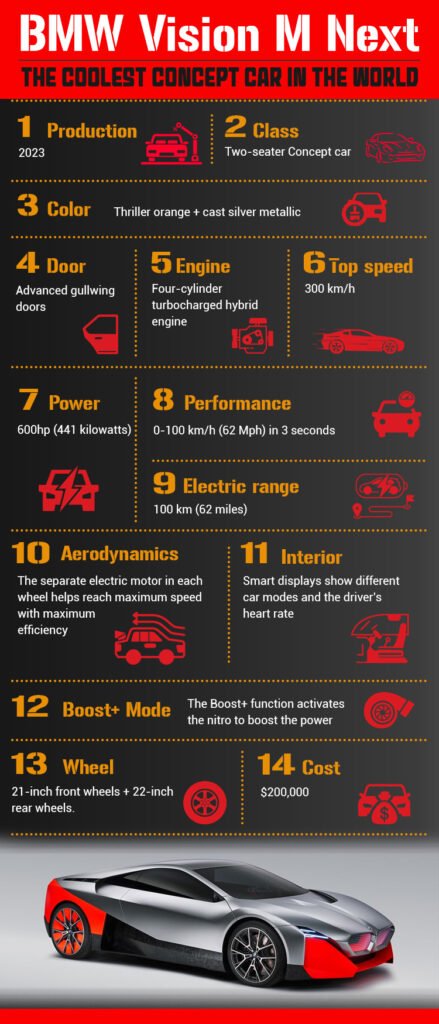 Manufacturer
M Performance
Production
2023
Class
Concept car
Engine
Four-cylinder turbocharged hybrid engine
Electric range
100 km (62 miles)
Power
600 horsepower (441 kilowatts)
Wheels
Front: 21 inches
Rear: 22 inches
Cost
$200,000
BMW Next
Engine
BMW Vision MNext is powered by a four-cylinder turbocharged hybrid engine and two electric motors, generating an enormous and massive power output of 600 horsepower (441 kilowatts), and reaching a top speed of 300 km/h.
Electric motors are placed on both the front and rear axles making it an all-wheel-drive.
Aerodynamics
BMW Vision M Next is one of the best concept cars in the world. So, to ensure the safety and stability of both the vehicle and driver, it's aerodynamics must be taken into consideration. To avoid aerodynamic stresses, this supercar is designed expertly and perfectly. So, it can achieve its goal with maximum effectiveness and efficiency.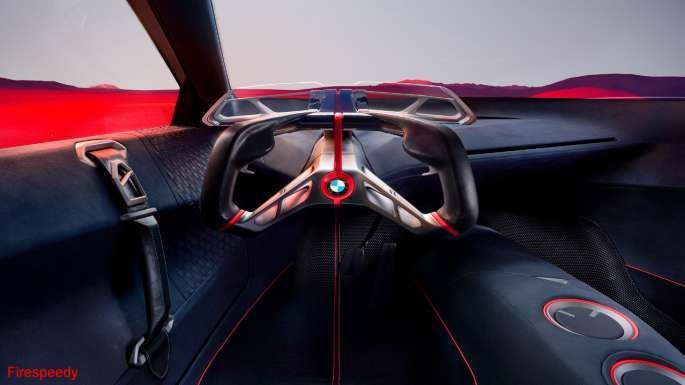 Every wheel has its separate electric motor, which helps in reaching the maximum speed with maximum efficiency.
Interior
BMW logo on the steering wheel lights up when unlocked. When the driver taps this logo, the small display on the steering wheel lights up, showing the different car modes.
The display behind the steering wheel turns on when he presses the button placed on the right of the steering wheel, showing the heart rate of the driver.
Boost+ Mode
BMW Vision MNext features a mode, acts as a catalyst or booster that boosts the generation of power output by car, on the tap of a button. This mode is known as Boost+.
Boost+ function gets activated by a tap of two buttons on the steering wheel. It is also shown in racing movies, i.e., Fast and furious. The driver used to press the button to activate the nitro to boost the power.
Other specifications
The car is accompanied by four wheels measuring 21-inch front wheels and 22-inch rear wheels.
Performance of the BMW Vision M Next
| | |
| --- | --- |
| 0-100 km/h (62 Mph) | 3 seconds |
| Top speed | 300 km/h (186 Mph) |
| Electric range | 100 km (62 miles) |
BMW Vision MNext can accelerate from 0 to 62 miles per hour (100 km/h) in 3 seconds. The concept car can run 100 kilometers after a full charge.
Domagoj Dukec, Vice President BMW Design, said, "The BMW Vision M NEXT is a progressive hybrid sports car that makes a very clear and confident statement, in terms of both appearance and interaction."

– Domagoj Dukec
Production of the BMW Vision M Next
BMW Vision MNext will be between us soon. The production of this supercar will begin in early 2023.
See also:
BMW Vision M Next | Speed, Price, Records, and Specifications
Follow me in social media:
Summary
Article Name
BMW Vision M Next | Speed, Price, Records, and Specifications (2020)
Description
BMW Vision M Next | Speed, Price, Records: BMW Vision M Next is one of the best supercar concept car. BMW Vision M Next, BMW Vision MNext, BMW Vision Inext.
Author
Publisher Name
Publisher Logo