Overview – Group Motorcycle Ride
For a beginner who always dreamed of getting a motorcycle, a Group Motorcycle Ride is an entry to the clan. We all have seen and fell in love with motorcycle gangs; their dress-ups, style, and all leather fashion sense make it even more appealing for us. Most people love the idea of going on a ride with friends, but with a motorcycle, everything is different. While on a road trip in a car, you take turns driving the car; if you are riding on a motorcycle in a group, you need to keep up. It is one of the main issues that most people report while riding a motorcycle in a group. They want to enjoy everything with their friends, but they also want to feel a sense of autonomy.
Tips for a First Group Motorcycle Ride
Experts say that your first Group Motorcycle Ride is a very tough test. It would help if you stay alert, follow their lead, and make sure everyone is happy. Within a group ride, you can enjoy a sense of safety, and you can share things as well, but this all comes with a price tag. A group of riders must seem like a team, and you must try to stay with them at all times.
Staying behind, taking another route, or telling them to stop might not go in your favor. It will help if you stay vigilant and alert. Also, you must ensure that you are not affecting the pace of the group. In most cases, if a fresher or a newbie is slow and tries to bring the pace down, this will become the point of agitation for most. For the beginner who will join a group for the ride for the first time, here are a few of the basic tips and tricks you need to follow during the Group Motorcycle Ride.
See also: Rimac C2 (Concept Two) | Speed, Price, Top Records, and Specs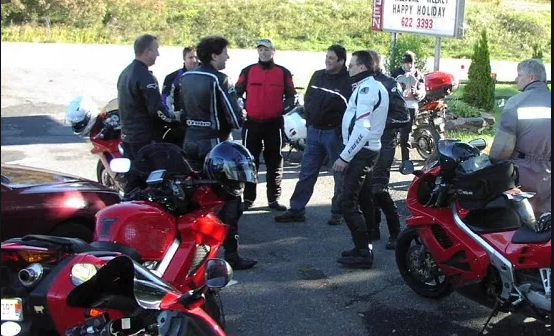 Punctuality
We know that most groups go easy on the first-timers but if you want to stay in for the long run, keep up with the time. Be there on time and make sure you have everything that you might need. First of all, keep your tank full, then ensure your safety. Safety gear must include your helmet, gloves, knee and elbow pads, and a motorcycle jacket. Another very important thing is the tool kit and first aid kit. It would help if you had a pair of saddlebags with you to keep everything safe. In most cases, people feel saddlebags are not very trendy, but the right choice can amp up the overall look of your motorcycle.
Route Meeting
Most groups will give an end time for the rider's meeting. Within this meeting, you will get all the basic information about the route and the places where you will take a rest. For the riders meeting, you must be on time because you can ask questions and learn about the group. In most cases, route meetings can turn into a one-on-one session where you can learn about the riders. This one-on-one session will help you a lot during the route, so make sure you are there on time.
Emergency Ride Missing
One of the main tips that you will need for the ride is related to missing riders during the group motorcycle ride. It is a very common scenario, and experienced riders know how to handle the situation. However, for someone who is new and has never been a part of a motorcycle group, this can be a very panicking situation. If you feel that a rider has gone missing, try to get in touch with the group.
Mostly, this will create a huge gap between the group, so while others can try to locate the rider, a few must carry on and inform the riders who are waiting for them. Usually, riders issue a designated slot or a petrol pump where they can meet, so ensure you reach there on time. If you feel you have been left behind, try to reach the petrol pump as early as possible. It will help you keep up with the team, and you will rejoin the group.
See also: How You Can Make Your Car Go Faster?
Know the Rule of Distance
The rule of distance is a very common riding technique that most riders are taught at the time of their first group motorcycle ride. If you are not familiar with this technique, you can follow the lead, and within a few minutes, you will understand the pattern. This distance pattern is taken care of because you don't want to get into an accident. When the rider in front of you needs to sway or stop to avoid the obstacle, it will give you enough time to get ready. If you do not respect the rule of distance, this might result in some serious accidents.
Overtaking
Overtaking is very tricky, even if you are riding on your own. In the form of a group, this tricky situation can soon turn into dangerous. We have all seen that we try to maintain the distance and follow the lead once we are in a group. This blind following can result in major accidents. Try to overtake when you feel it is safe to overtake. Following the lead of the person in front of you can be very dangerous. For the beginner, the mere idea of getting left behind is very scary, but if you overtake a vehicle while staying in a group, you will be putting your life in danger.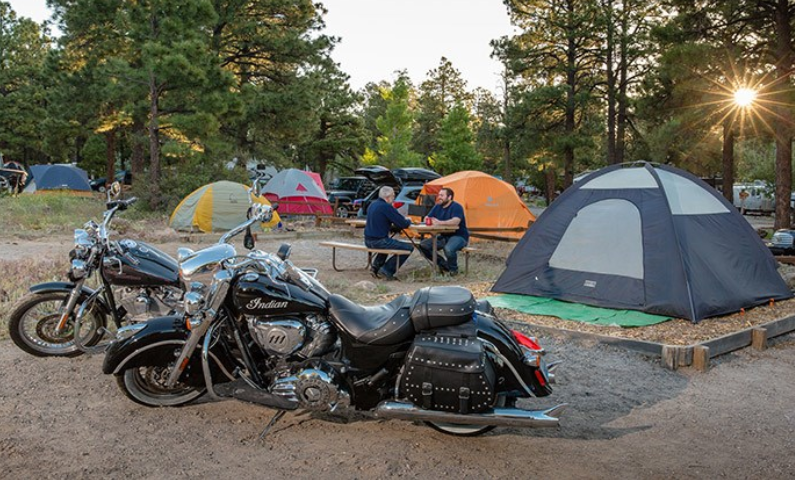 Pack Up Easy
While in a group, most people like to rely on each other, which is exactly why most people enjoy group rides. However, you also need to make sure that you have everything with you that you might need. While sharing is good, it can turn into an ugly experience as well. Your personalized tool kit, eatables, first aid kit, and other things will save you from getting into a troubled situation. Make sure you keep all these things with you at all times.
See also: Parker Solar Probe | Fastest man made object in the world
Basic Tips and Tricks to Help You with Your First Group Motorcycle Ride
Follow me in social media: